Preparing for the 2017 BUPA Challenge Tour – tips from Kristin Lewis
With this year's edition of the TDU less than 2 weeks away, here are some tips as you finalise (or perhaps start!) your preparation for the BUPA challenge tour –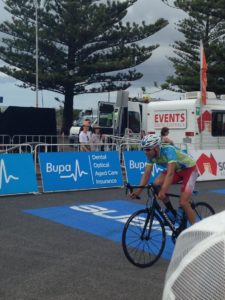 KL crosses the finish line in the 2015 BUPA Challenge
This week
There is still time to work hard on your preparation for the event. Incorporate some hard sessions on the bike this week culminating in your last 'long' ride this coming weekend (14/15th Jan).
Try out any new equipment/clothing/gels/energy drinks you intend to use in the event – nothing new on the day!
Make sure your bike is running well – if not, get it serviced this week as bike shops won't want to know you next week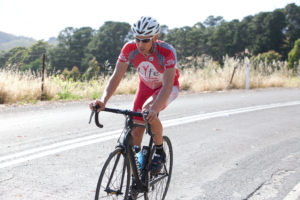 Training on Norton Summit
Event week
This is the week for rest and recovery to prepare your body for Friday's event. Squeeze in some short but hard intervals early in the week if you are a seasoned cyclist otherwise it's time to rest the legs or perhaps do a few short easy rides.
The night before
Make sure you include a decent serve of carbohydrates with dinner such as bread, pasta or rice so you are well fuelled for the event. Ensure that consume plenty of water as well as it's likely to be a warm – hot day for the BUPA challenge and you want to be well hydrated.
Lay out all of you clothes (with numbers fixed on), event food/drink and anything else that you need so that you are organised and ready to go for the morning. Ensure that you are familiar with the ride route and have reviewed the weather forecast so that you can dress appropriately.
Final check of your bike and gear, top up the air in your tyre – you are now ready to go!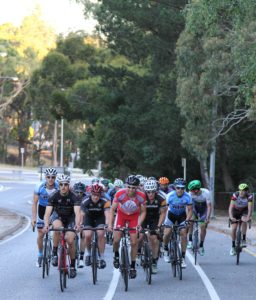 Getting the group underway for the 2016 Chistmas Eve Ride
On the day
Follow your normal morning routine as much as possible. Ideally have breakfast which should again contain some carbohydrate (bread, cereal, up and go, etc)
Set yourself to start with some other riders who intend to ride at a similar speed to you. Once riding, you need to have all of your senses tuned in so you are aware of what is in front, to the side and behind you (no ear phones!). Be aware of riding smoothly (no sudden stopping) and make sure you use your hands to signal if you intend changing direction
Finally, pace your effort over whichever distance you are doing and make sure you stay on top of fueling/hydration during the event